We're on! Let´s Celebrate!
"Genesis" – the new Leather Collection 2015/16 and a tribute to Etienne Aigner.
The AIGNER ONLINE MAGAZINE – A great step towards the future for the luxury leather brand boasting five decades worth of craftsmanship and know-how.
For the latest campaign, the company already brought in supermodel Toni Garrn, a famous face and the personification of AIGNER's major developments: Preserving an awareness for elegance, values and style, but at the same time being edgy, cool and up-to-date. So it's great having her on board again for the Genesis collection!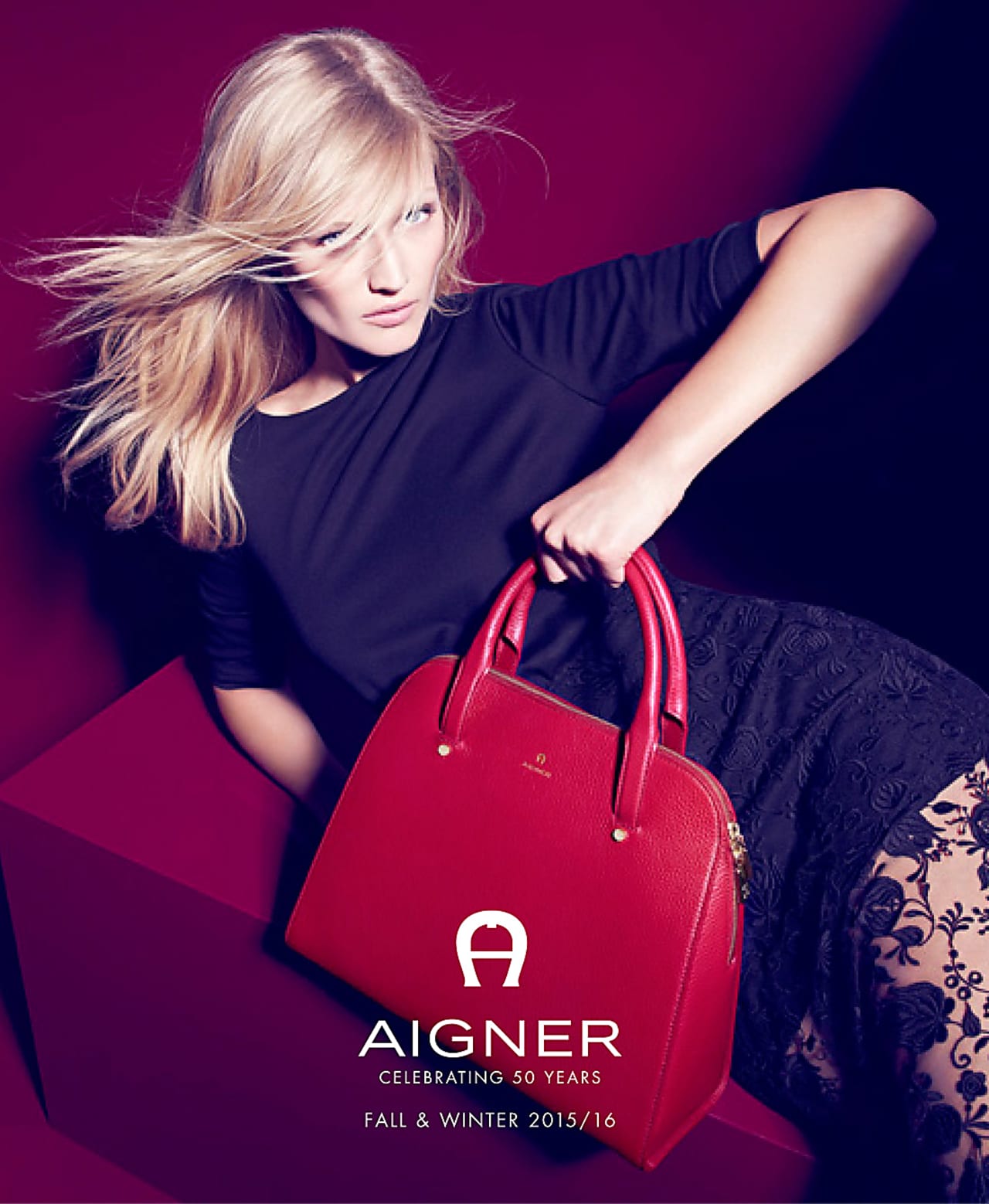 Genesis is the anniversary collection for autumn/winter 2015/16, celebrating the brand's original DNA, but also radiating zeitgeist, coolness and a modern lifestyle. The Head of Design, Christian Beck, dedicated it to the company's founder, Etienne Aigner, and his home country of Hungary. The country's people, the landscape, it's music and especially the colorful, traditional clothes not only provided inspiration, but also match the international trends for the autumn/winter season: ethnic looks with embroideries, patterns and vivid colors. The absolute highlight: a floral icon print, running like a golden thread through the entire collection.
The color palette stands for a blend between tradition and the future: Daisy Yellow, Meadow Green, Poppy Red and Cyani Blue represent Hungary's rich color scheme. These tones are complemented by earthy, calm shades like Nude, Hazelnut Beige and Nutmeg Brown. In some product series, AIGNER also brings back to life the brand's typical color, Burgundy.
Already a classic: the "Ivy Bag". Alongside Toni Garrn, it's a highlight in the collection. Reduced and modern - thanks to its clear lines, the Ivy Bag radiates a clean and luxurious design language. The jewelry highlight is a golden pendant with the 50-year-logo. The bag presents itself in fine Grain Leather and in six different versions, from the spacious Shopper to the Mini Pochette. The colors: Black, Nude, Volcano, Cyani Blue and Poppy Red. So everybody will be able to find her own Ivy!
It is an honor for me to join the AIGNER team and to report on the latest handbag trends, the most important facts concerning the cult brand and cool styling possibilities! My name is Kate Gelinsky, I have been writing for wunschfrei.com since 2008 and I never miss a chance to be truly "wunschfrei" (a wordplay between having all one's wishes fulfilled and being able to make one wish). So I think I am in good hands here.
Off we go!
Yours truly, Kate
Back to all topics